M-D-J, spol. s r.o. - Stredisko Riadiacich systémov bolo založené v roku 1993.
Zaoberá sa nasadzovaním najnovších metód a technológií z oblasti kybernetiky, automatizácie, umelej inteligencie, informatiky a komunikačných technológií v jednotlivých odvetviach priemyslu.
Aplikačnou doménou spoločnosti sú veľké, stredné a malé technologické súbory v oblasti riadenia, tak klasických ako aj sofistikovaných priemyselných komplexov, tvorby a dodávok softvérových a hardvérových celkov, meracej, automatizačnej techniky a priame aj vzdialené riadenie a monitorovanie technologických a robotických pracovísk. Vzdialené riadenie a monitorovanie je realizované prostredníctvom najmodernejších lokálnych aj internetových aplikácií s vysokou úrovňou spoľahlivosti.

Snahou spoločnosti je pokrývať komplexný rozsah služieb v oblasti profesionálnych riadiacich, dispečerských a informačných systémov od ich projekčnej fázy, cez samotnú realizáciu, až po tvorbu projektových dokumentácií a zaškolenie obslužného personálu. Pre zahraničných investorov je projektová dokumentácia spracovávaná viacjazyčne.

K úplnosti našich služieb patrí záručný a pozáručný servis. Máme rozvinutú spoluprácu s mnohými zahraničnými a domácimi firmami, s ktorými úzko spolupracujeme nielen pri tvorbe a nasadzovaní automatizovaných systémov, ale aj pri ich neustálom optimalizovaní a vylepšovaní.

Pracovný potenciál spoločnosti tvoria odborníci z oblasti automatizácie, robotiky, meracej a regulačnej techniky, informatiky a umelej inteligencie. Naši zamestnanci sú pravidelne školení a certifikovaní na implementáciu najnovších riadiacich a informačných technológií, pričom pri vývoji úzko spolupracujeme s akademickými a vedeckými inštitúciami.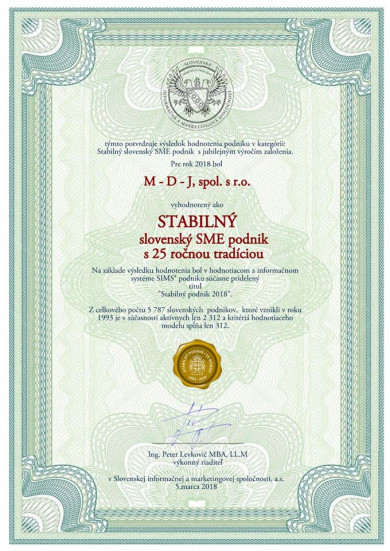 Naša spoločnosť poskytuje praxou osvedčené, najmodernejšie a cenovo primerané služby a produkty.
Ponúkame naše skúsenosti a vedomosti aj v oblastiach, kde iní váhajú, alebo si netrúfajú.
We combine research and development with 30 years of experience in the automation, artificial intelligence, robotics and cybernetics markets.
Design activity, realization of HV, LV, electrical, MaR and SKR turnkey constructions
For the needs of the construction of technological units we offer electrical design work, production of electrical switchboards for control and management systems of the production process. The standard part of the delivery are electrical documentation, assembly, wiring, recovery and testing of electrical switchboards and electrical equipment, delivery of customized switchboard solutions and inspection of electrical equipment.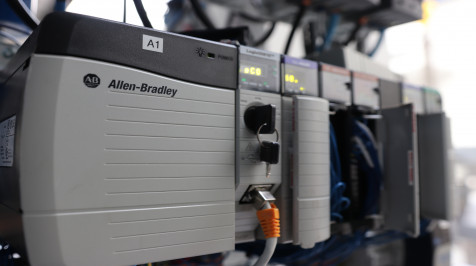 Design, implementation and debugging of sophisticated control algorithms
We have the know-how in the design and delivery of sophisticated and sophisticated control algorithms for complex technological processes using artificial intelligence (neural networks, fuzzy logic, expert systems, neuro-fuzzy systems, genetic algorithms, etc.) based on the latest theories of cyber-physical systems. We deliver integrated complex control systems, process visualization, process variable collection and historization, production automation and manufacturing information systems. Delivery includes specification, design, programming, implementation, testing and commissioning of control systems and industrial information systems.
Robotic workplaces
We supply integrated hardware and software modules for robotic workstations (cells), including robotic 3D vision. The hardware module consists of the design, supply, installation and commissioning of robotic workstations and 3D vision systems mainly from manufacturers KUKA, Fanuc, Stäubli, ABB, Omron, Mitsubishi, UR and others. The software module consists of the design, programming, implementation, testing and commissioning of application software for manipulators and mobile robots with robotic 3D vision.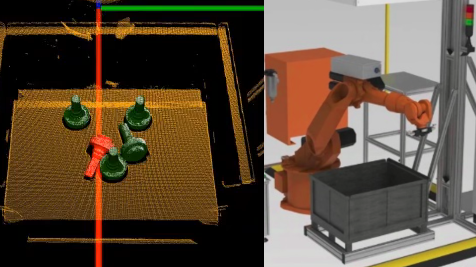 2D and 3D camera systems - computer and robotic vision
We supply and customize 2D and 3D camera systems for quality control of the production process, but also as a fully integrated solution for robotic workplaces with all subsystems for depalletization of objects in 3D space (subsystem for preparation and creation of a model of the real object, subsystem for searching and determining the location of the gripping point, along with a subsystem for gripping and subsequent storage of the object) - 3D robotic vision. We also supply 2D and 3D monitoring and inspection systems for the energy industry (combustion quality in the combustion chambers of boilers burning natural gas, mixed gases, coal, hydrogen, municipal waste).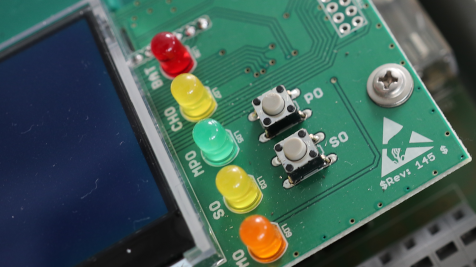 Electronics
We develop electronic and electrical prototypes and implement them successfully in practice in standard but also in highly demanding environmental conditions, including space conditions, according to the most demanding procedures (processes) in the sense of ECSS (European Cooperation For Space Standardization) norms and standards.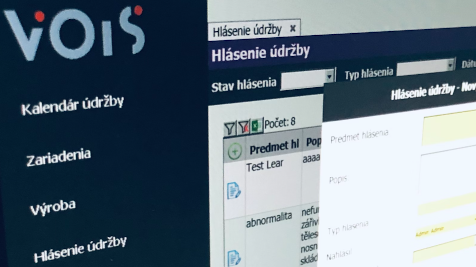 Delivery and implementation of MES level information systems
We supply and implement production-oriented information system VOIS for MES level of information and management systems of enterprises. VOIS consists of three basic modules: (1) automatic production planning and scheduling module, (2) warehouse management module, and (3) TPM maintenance module. , integrating dedicated and autonomous maintenance, the recording of preventive and corrective maintenance activities, abnormalities and maintenance reports, their scheduling together with downtime planning, the recording of maintenance department and autonomous maintenance performances and reporting.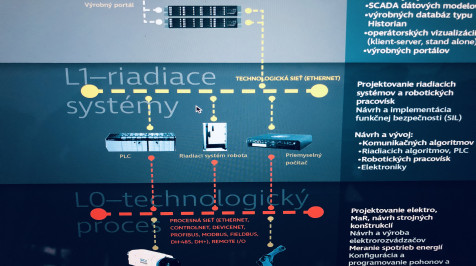 Analysis and design of information and control system architectures
Analysis, design and delivery of technically and cost-optimal information and control system architectures for small, medium and large-scale enterprises based on Industry 4.0.
Optimisation and computerisation of production processes
Using our products MORES (Multifunctional Optimization Energy Control System) and ECOGI (Ecological Optimal Energy Generator), developed on the basis of 30 years of experience, we analyze, design and implement the optimal setup of production processes through pragmatic approaches, mathematical analyses and simulation models with links to artificial intelligence tools (neural networks, fuzzy logic, expert systems, neuro-fuzzy systems, genetic algorithms, etc.).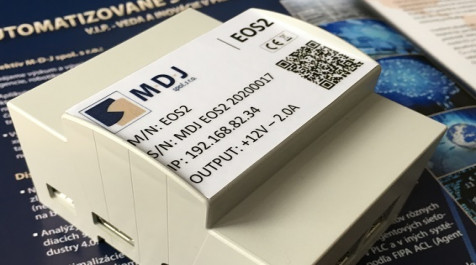 Design and supply of communication software and hardware modules
We design and supply communication software and hardware products for various computer networks and communication interfaces based on standard communication protocols and multi-agent network control system protocols.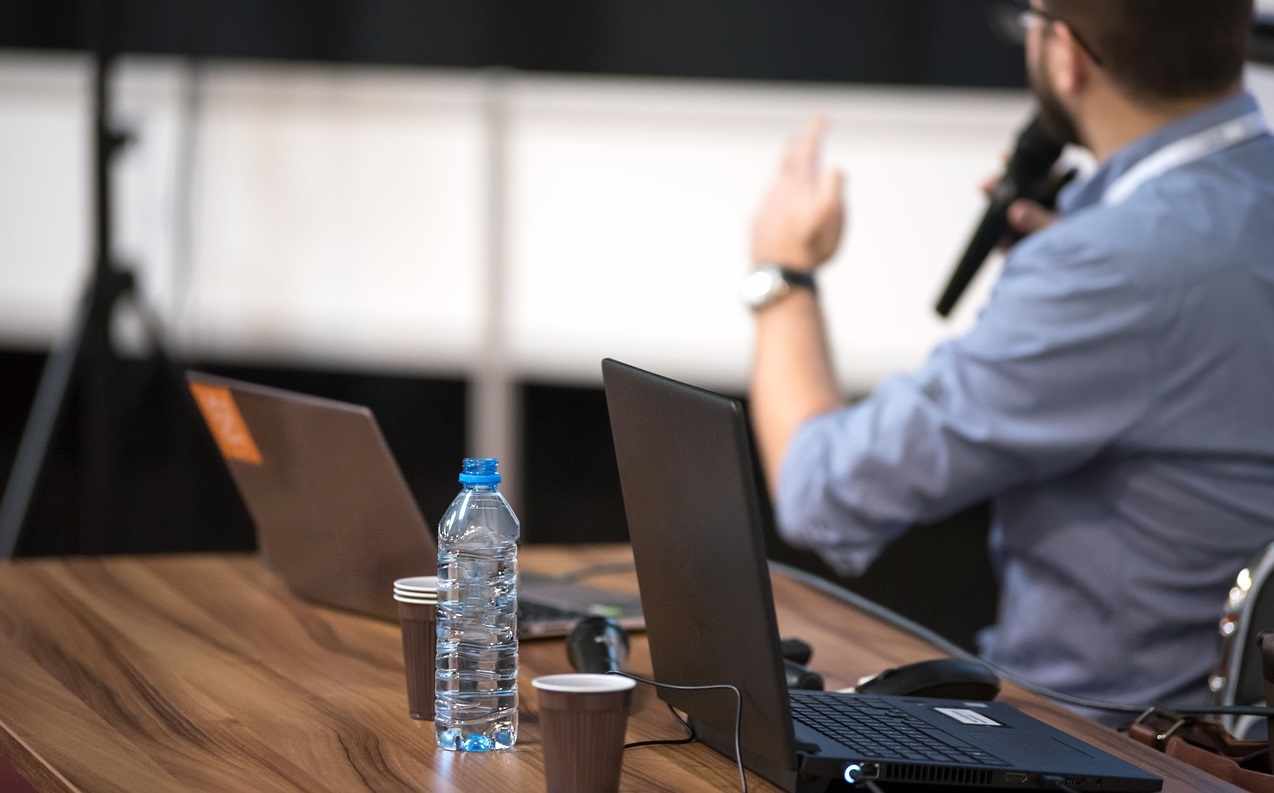 In addition to standard training of service personnel, we also provide training focused on configuration and programming of control systems, visualization systems, communication systems, servo drives and frequency converters, and training of SQL and NoSQL database systems.
Dlhodobým cieľom spoločnosti M-D-J, spol. s r.o. je aj naďalej pôsobiť na trhu ako stabilná a prosperujúca spoločnosť. Naším zámerom je stať sa lídrom v oblasti automatizovaných systémov riadenia na trhu umelej inteligencie, automatizácie, robotiky a kybernetiky a stať sa tak prvou voľbou zákazníka. Taktiež je naším cieľom prinášať najnovšie poznatky z výskumu a vývoja do praxe.
Naším cieľom je prinášať najnovšie poznatky z výskumu a vývoja do praxe.
Veríme, že stále existuje možnosť zlepšenia našich produktov a služieb. Táto skutočnosť pre nás predstavuje záväzok poskytovať efektívnejších a komplexných riešení. Nové inovačné a efektívne riešenia umožňujú našim zákazníkom zlepšovať ich produktivitu a konkurencieschopnosť na technologicky náročných trhoch.
Sme plne zodpovední voči našim zákazníkom a ich podnikateľskej činnosti, v ktorej sme zapojení ako dodávateľ. Veríme v obojstrannú spoluprácu a vytváranie dlhodobých partnerských vzťahov.
Sme presvedčení, že stabilný partner, ktorý dokáže počúvať a porozumieť definovaným požiadavkám zákazníka a ktorý pozná problematiku, dokáže priniesť nové riešenia. Riešenia, ktoré sú postavené na vzájomnom pochopení a poznaní potrieb zákazníka.
COO
Ing. Jana Ligušová, PhD.
Company Director, Holder of Procuration
Ing. Martin Pokorný, MBA
Holder of Procuration, head of the Camera Systems and Robotics Department, Project Manager
Ing. Zdenko Hušek
Head of the Electrical Assembly Department, Project Manager
Ing. Roman Vinca
Head of the Electrotechnical Projection Department
Ing. Peter Burinský
Head of the IT department, Project Manager
 Ing. Kvetoslav Molitoris
Head of the Sales and Trade Department, Sales Manager
Ing. Peter Uličný
Head of the Control Systems and PLC Department, Project Manager
Ing. Patrik Paugsch
Head of the Mechanical Design Department
Ing. Alexander Voroňko, PhD.
Head of the Maintenance Department 
Ing. Dávid Krehel
Head of the Economics, Accounting and Purchasing Department
Eva Jergová
Project Manager
Ing. Karol Križalkovič
Project Manager
Ing. Dušan Zis
Project Manager
Ing. Milan Machciník
Project Manager
Ing. Michal Semanko